No need to worry about illegally downloading your favorite music off the internet anymore. Apple Computers has made getting your songs simple, affordable, and above all—legal. With both PC and Mac versions, Apple iTunes is the new portal to your personal entertainment galaxy.
This multimedia system (that interacts with iPods) allows users to browse for music, music videos, television shows, cartoons, movie trailers, audio books and more. Their nearly inexhaustible catalog almost defies users to request something they do not have. iTunes makes getting your downloadable entertainment easy with simple search methods and its organized index.
For music, users just type in a song or the artist. When searching for an artist, iTunes will pull up their index of recordings by that artist. It's that simple. Then, you simply click the tune or tunes you want to download and follow a few easy prompts. When searching for a song, iTunes pulls up everything it has with that title—you simply match the title to the artist you have in mind. ITunes claims to add thousands of songs to its music store each week.
Users can buy a single song at a time or buy the downloadable cd—which comes with the artwork right to your computer. Getting married? Download every song you want played at your reception. Need to workout?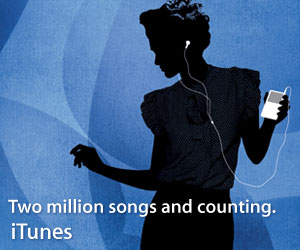 Download an hour's worth of fast tracks to keep you moving. You've read the reviews—you know the vast majority of that cd is a dud, but you still want that one big hit; just download that one song. Buy music for your entire family—barnyard or Disney classic tunes for the little ones, the latest Britney for your little Prom Queen, the darkest Indie for your melancholy collegiate son, a little something sweet to mellow out your lady and maybe something classic 1980 for yourself.
iTunes allows you to make your computer your personal jukebox. Once you've got the music downloaded, you can put together play lists, shuffle a few artists or shuffle everything you've got. Everyone in the family can make their own play lists so there's no need to for you to be exposed to—let's say—Death Cab for Cutie if you don't want to be. Finally, you can lose all the cd clutter and move those unfashionable cd towers out to the garage. Everything can be stored on your computer with no mess and not too much fuss.
The downside—well, it's affordable but not free. There is some cost involved, but only to the tune of $.99 per song and $1.99 for videos. Buying the whole cd costs more, but less than what you would pay in stores. Of course, if it was free—it wouldn't be legal, and downloading from iTunes keeps you on the straight and narrow with a clear conscious while you jam.
iTunes has still more interesting features. It allows users to rate their purchases and even keeps some personal statistics for you i.e. your top twenty-five most played, recently played and recently added. While it appears to be used for most for music downloads, iTunes also provides access to podcasts. You can get access to CNN news updates, public radio, audio books, sports broadcasts and more. This great new store for downloadable forms of your favorite media is as hot as it is legal. Go shopping at Apple iTunes soon!